Find Help
The Coordinated Entry System (CES) streamlines the process of finding housing for those who are homeless by connecting them with all of the housing providers through a single assessment or application. Individuals and families who complete an assessment are connected short-term emergency shelter (when needed) and matched with permanent housing, prioritizing those who are most vulnerable first.
Download a printable outreach card of the CES Access Points in the San Gabriel Valley.
In addition, see flyer for free shower and meal resources being provided throughout Pasadena by various faith-based communities and service providers.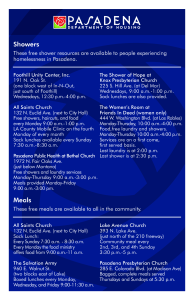 Single Adults
If you or someone you know is currently homeless or is at-risk of becoming homeless, please contact or visit one of the following intake sites for an assessment so that you can be assisted in getting connected to services and housing resources. These Coordinated Entry sites are the primary point of entry for adults seeking housing and services in the San Gabriel Valley.
Union Station Homeless Services (Adult Center)
Lead CES Assessment Site (housing), shelter referral site. Intakes are available on a first-come, first-served basis.
CES Assessment Site (housing)
CES Assessment Site (housing)
Pasadena Public Health Department
GEM Link Program
Age Range Served: Ages 60+
CES Assessment Site (housing)
Families
Families who are homeless and in need of housing should call 2-1-1 and request an appointment at a regional Family Solutions Center which is the assessment site for CES for families.
If your family is from the San Gabriel Valley, you can also contact Union Station Homeless Services directly at (626) 337-0140 or email us at fscreferral@unionstationhs.org
Provides referrals for CES for families, limited emergency housing (motel vouchers)
Youth (18-24)
If you or someone you know is between the ages of 16-24 and is experiencing homelessness, you can get connected to housing and services at the following locations. All sites are by appointment only.
Youth CES assessments and access center storage is available by appointment.
Hillsides Youth Moving On
Youth CES assessments, shower and laundry facilities are available by appointment only.